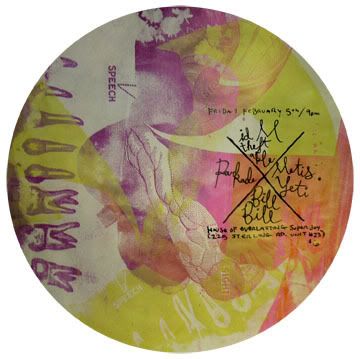 Here is a poster for the Id M Theft Able/Metis Yeti/Bill Bill/Parkade show.. Actually, I'm not sure why I made it, since it's nearing 3 feet big and there is only 11 of them. Perhaps it was to commemorate what is sure to be a classic show.
Here is Skott's myspace which has ample audio demonstrations and aesthetic declarations:
OOGA
Yesterday Randy pointed out this favorable article about the Beniffer Showcase to me:
Right Here
.
Many things on the Winter update are still available. This week I'm going to get some copies into Soundscapes, so if you're from Toronto you don't have to hunt us down. I will say now that we are down to our last copies of the Brian Ruryk boxset. You snooze you lose and all of that...
Hey - if you managed to secure a copy of the Gastric Female Reflex 7" on Lips Infection, let me know how it sounds. Yeahhhhh, we never got our copies and now, several months after we personally screenprinted the art work, our label man won't return our emails. QUEER isn't it?